The aim of the specialty assignment is mainly to study at Pre Heater Kiln and Calcinor Cyclone circuit and Fans by carrying out measurements; take inference from the present operating conditions of the plant, and establish the strategic requirements to fulfill the objectives primarily focusing on Energy Savings.
The main objective has been summarized through
Performance study & opportunity appraisal,
Application methodology,
Implementation Sequence,
Plan overview,
Extract key elements into an appropriate application methodology so that it is Interpretive (with respect to scope available), and Predictive (with respect to result achievable), with Pay back analysis.

The report will be projecting the Implementation & Overview of the Proposals of the selected areas. Subsequently, the scope of implementation shall be freezed and the modification proposal shall be taken up for energy saving at selected areas.
We are pleased to inform you that most of the field results implemented at M/s. Larsen & Toubro Ltd.,( Ultra Tech Cement Ltd.,, Presently Aditya Birla Group) APWorks, Gujarat Cement Works, M/s. Narmada Cements Ltd, M/s. Ambuja Cements Ltd., Kodinar. M/s. Binani Cements Ltd, M/s. Madras Cements group of units, recently at Hirmi Cemetns are astonishingly encouraging and yielded substantial energy saving.
For your kind information and reference we are enclosing herewith a graphical & tabular representation of progressive modification and corresponding results being achieved at L&T -APCW Unit.
As a major break through, our this innovative methodology of Reducing Energy By Static Part Modification in Fans and Cyclones has been accepted under the Copy Right registration and Government of India Copy Right office has duly registered the same under Copy Right Registration act vide their registration No: A – 73152/2005 on the file of 2003.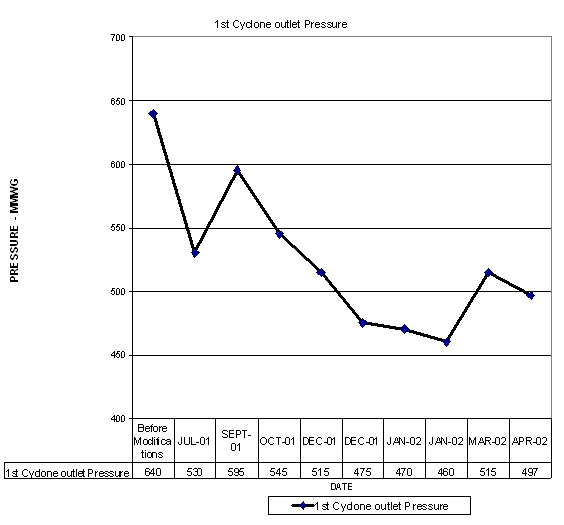 The following is a graphical & tabular representation of progressive Pressure Drop Reduction after each modification and result that is achieved in Power savings: